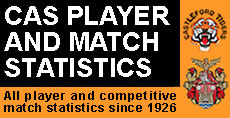 You are about to be directed to an external website which accesses an interactive database of the teams and scorers in every match played between Cas and their opponents from 28/08/1926 to the present day.
Statistics are recorded for each player during their career with Cas.
Statistics are also recorded for players in other teams, but only for those matches where Castleford Tigers were the opponents, from the start of Super League (04/02/1996) to the present day.
Click here to access the database