2017 Castleford team pictures
680
Resource type: Teams (2010s)
Contributor: Malcolm Billingham
Owner: Copyright Melanie Allatt and RLPhotos.com
Last updated: 22/10/2018

Description: Pic 1: 12 January 2017 Press Photo call - Back L/r: Stuart Vause, Matt Cook, Daniel Igbinedion, Brandon Douglas, Grant Millington, Will Maher, Mike McMeeken, Junior Moors, Jesse Sene-Lefao, Andy Lynch, Gadwin Springer, Kieran Gill, Matt Crowther. Middle L/r: Richard Stead, Michael Brown, Conor Fitzsimmons, Touyo Egodo, Greg Minikin, Jy Hitchcox, Ben Roberts, Oliver Holmes, Nathan Massey, Brandon Westerman, Luke Million, Declan Sheehan, Ben Cooper, Jamie Bell. Front L/r: Ryan Sheridan, Greg Eden, Jake Webster, Paul McShane, Adam Milner, Luke Gale, Daryl Powell, Michael Shenton, Tom Holmes, Zak Hardaker, Larne Patrick, Rangi Chase, Danny Orr.
Pic 2: 29 January 2017 Away v St Helens won 6 - 22. Pre-season friendly - L/r: Rangi Chase, Michael Shenton, Paul McShane, Joel Monaghan, Zak Hardaker, Luke Million, Luke Gale, Kieran Gill, Mike McMeeken, Greg Minikin.
Pic 3: 2 March 2017 Home v Leeds won 66 - 10. Back l/r Gadwin Springer, Nathan Massey, Matt Cook, Will Maher, Greg Minikin, Michael Shenton, Grant Millington, JT. Front l/r Andy Lynch, Greg Eden, Adam Milner, Jesse Sene-Lefao, Junior Moors, Paul McShane, Mike McMeeken.
Pic 4: 14 April 2017 Home v Wakefield won 42 - 24. L/r JT, Paul McShane, Gadwin Springer, Rangi Chase, Grant Millington, Zak Hardaker, Greg Minikin, Luke Gale, Mike McMeeken, Greg Eden, Jake Webster, Adam Milner, Oliver Holmes, Jesse Sene-Lefao, Andy Lynch, Junior Moors, Ben Roberts.
Pic 5: 29 April 2017 U16s away v Newcastle won 0 - 50. Back: Johnny McCrae, Ant Green, Jonny Payne, Asa Rogers, Lewis Peachey, Callum Cameron, Sam Hall, Liam Slicker, Kieron Purdy, Said Jamal, Myles Tate, Bradley Graham, Harrison Spence-Horton, Ben Dobson, Nathan Carter, Cory Hodgson, Jack Johnson, Keanu Bean, Dan Robinson, Danny Holmes, Rick Aben, Darren Higgins. Front: Jack Thompson, Harry Jones, Archie Craggs, Bailey O'Connor, Joe Burton, Jae Priest, Taylor Cartwright, Ritchie Westwood, Oliver Price, Bradley Jinks, Billy Marsh, Harry Archdale, Jack Rowbotham, Connor Hovell, Dom Dyson, Jacob Doyle, Iwan Orr.
Pic 6: 21 May 2017 v Leeds at St James Park, Newcastle won 29 - 18. Back: Paul McShane, Matt Cook, Alex Foster, Jake Webster, Greg Millington, Greg Minikin, Andy Lynch, Zak Hardaker, Nathan Massey, JT. Kneeling: Tom Holmes, Adam Milner, Junior Moors, Luke Gale, Jesse Sene-Lefao, Mike McMeeken. Front: Greg Eden.
Next image >
Hold and drag to see more detail in the image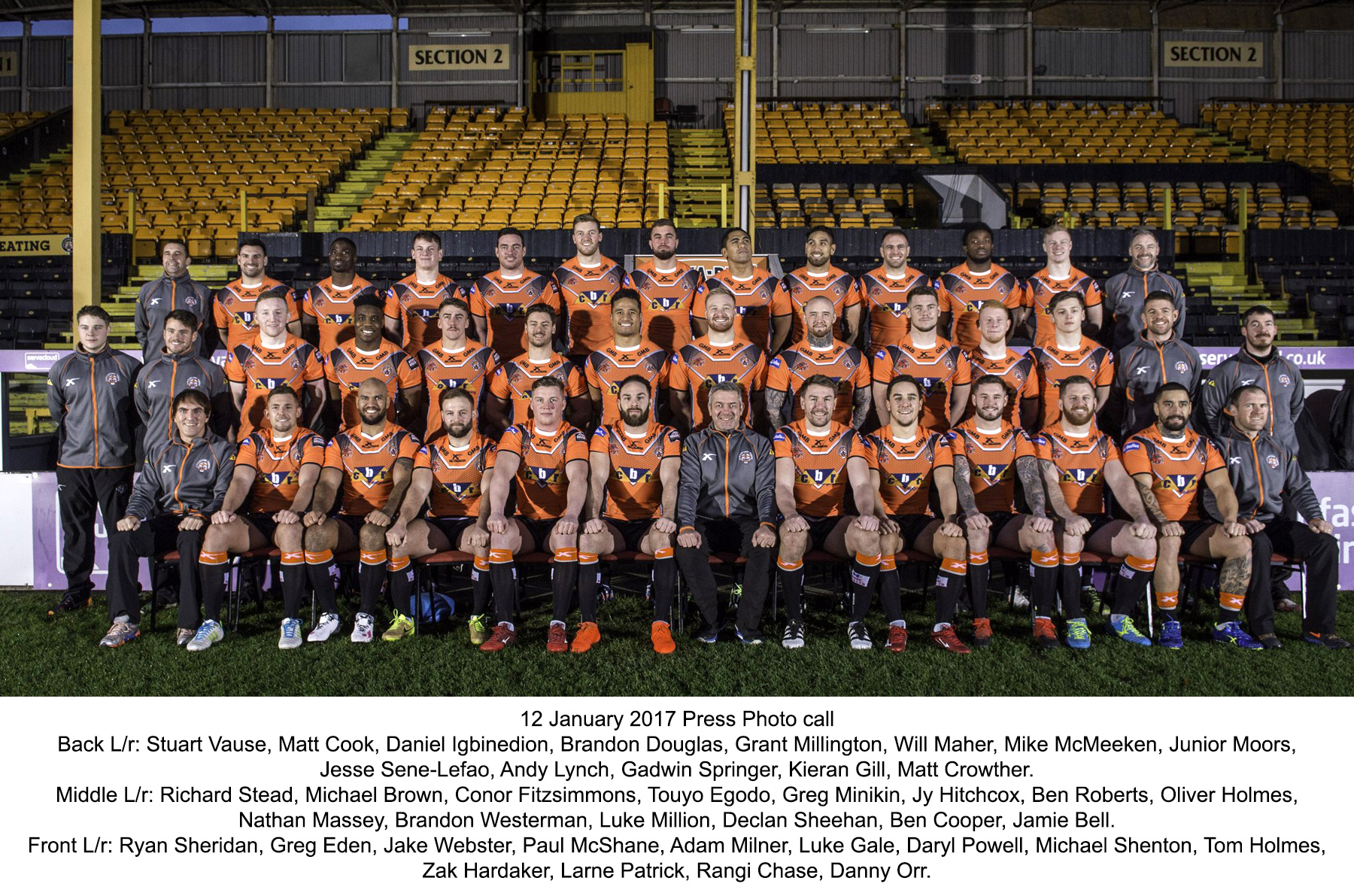 NOTE: If you decide to share a photo from this website on social media (or elsewhere) please ensure that you state that it was sourced from the Castleford Tigers Heritage Project website at www.castigersheritage.com. Volunteers have worked hard to produce this information and your assistance in promoting the site to a wider audience by encouraging them to visit is greatly appreciated. Thank you.
Click on images to view them in detail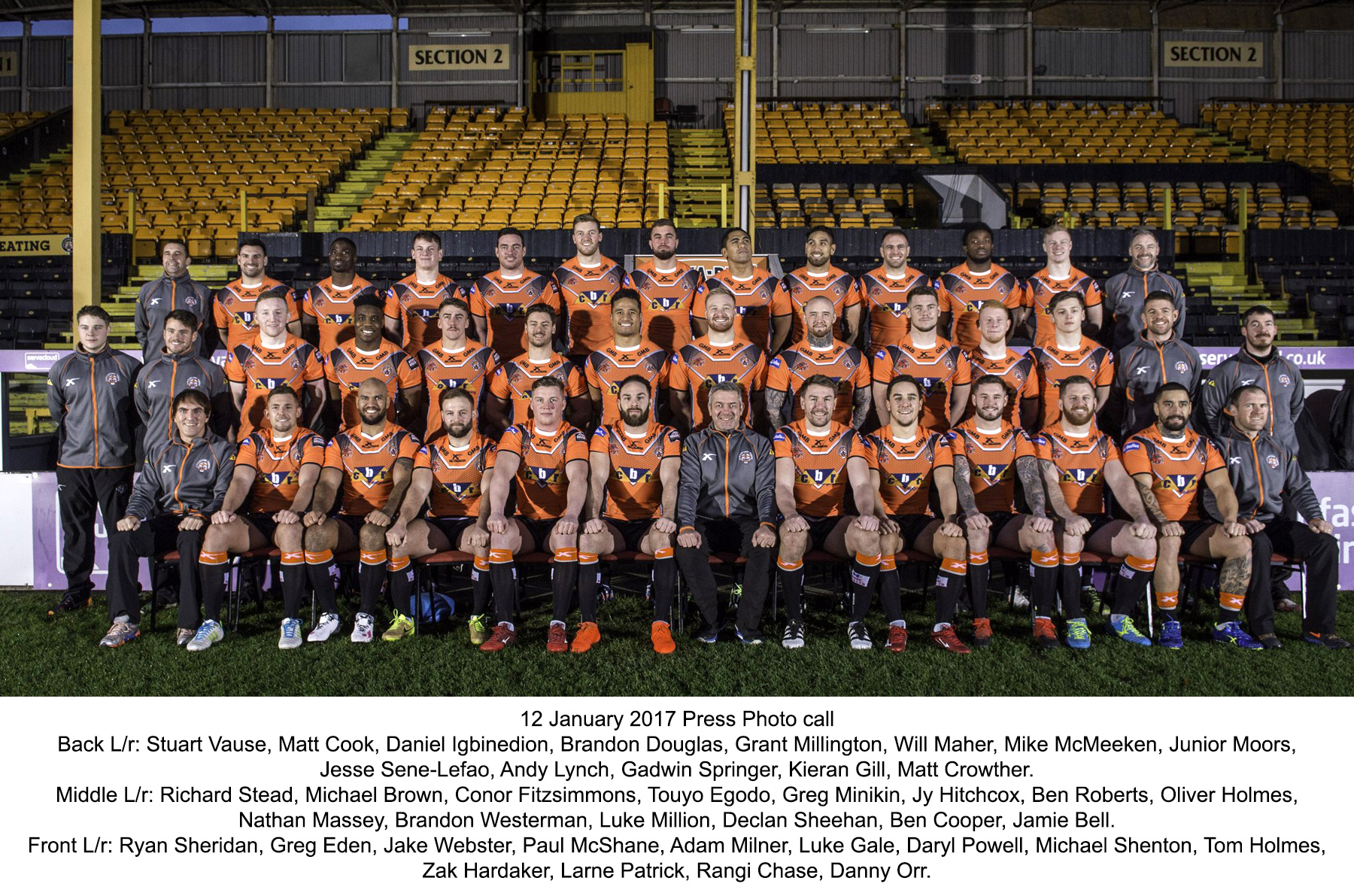 680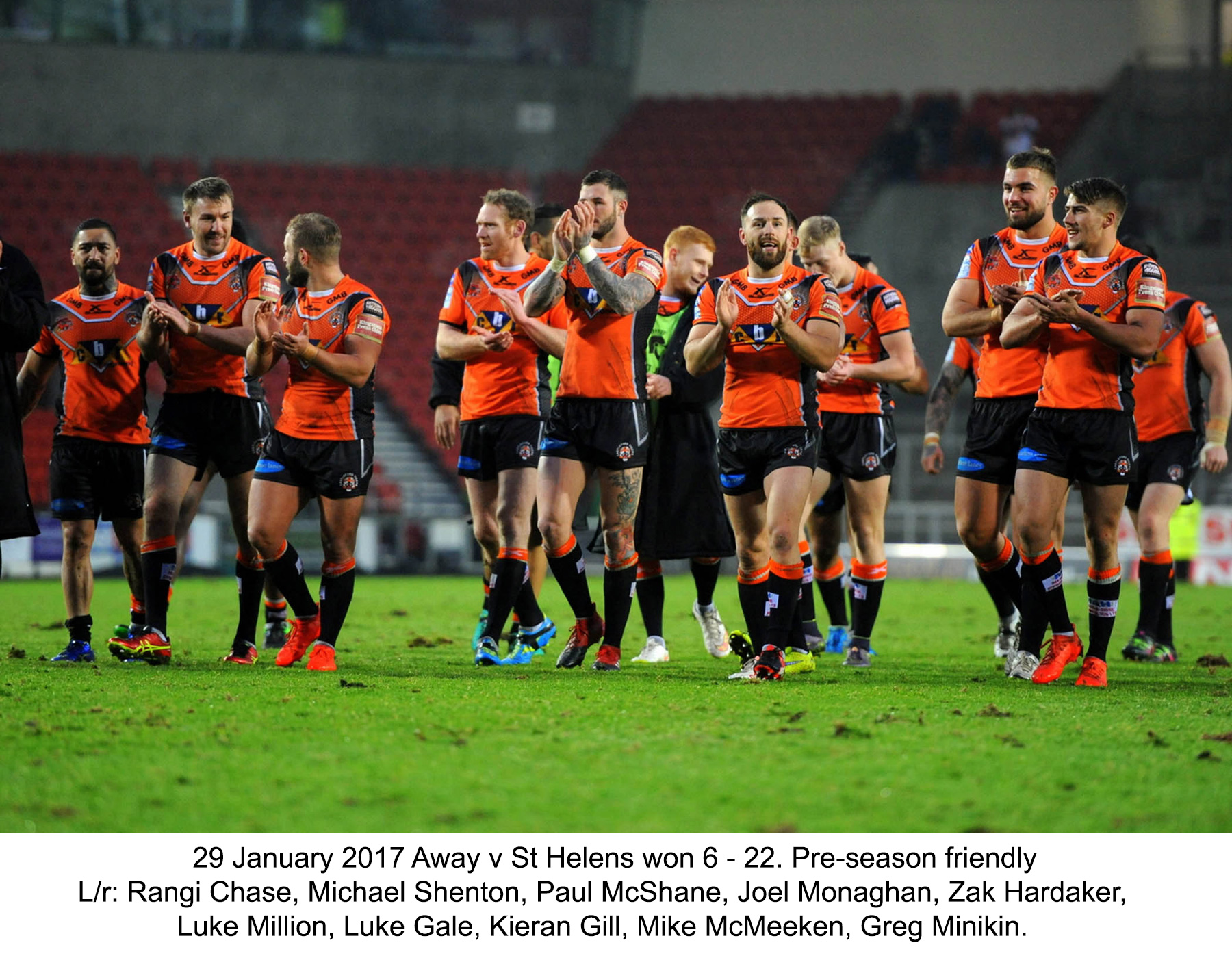 680-1
680-2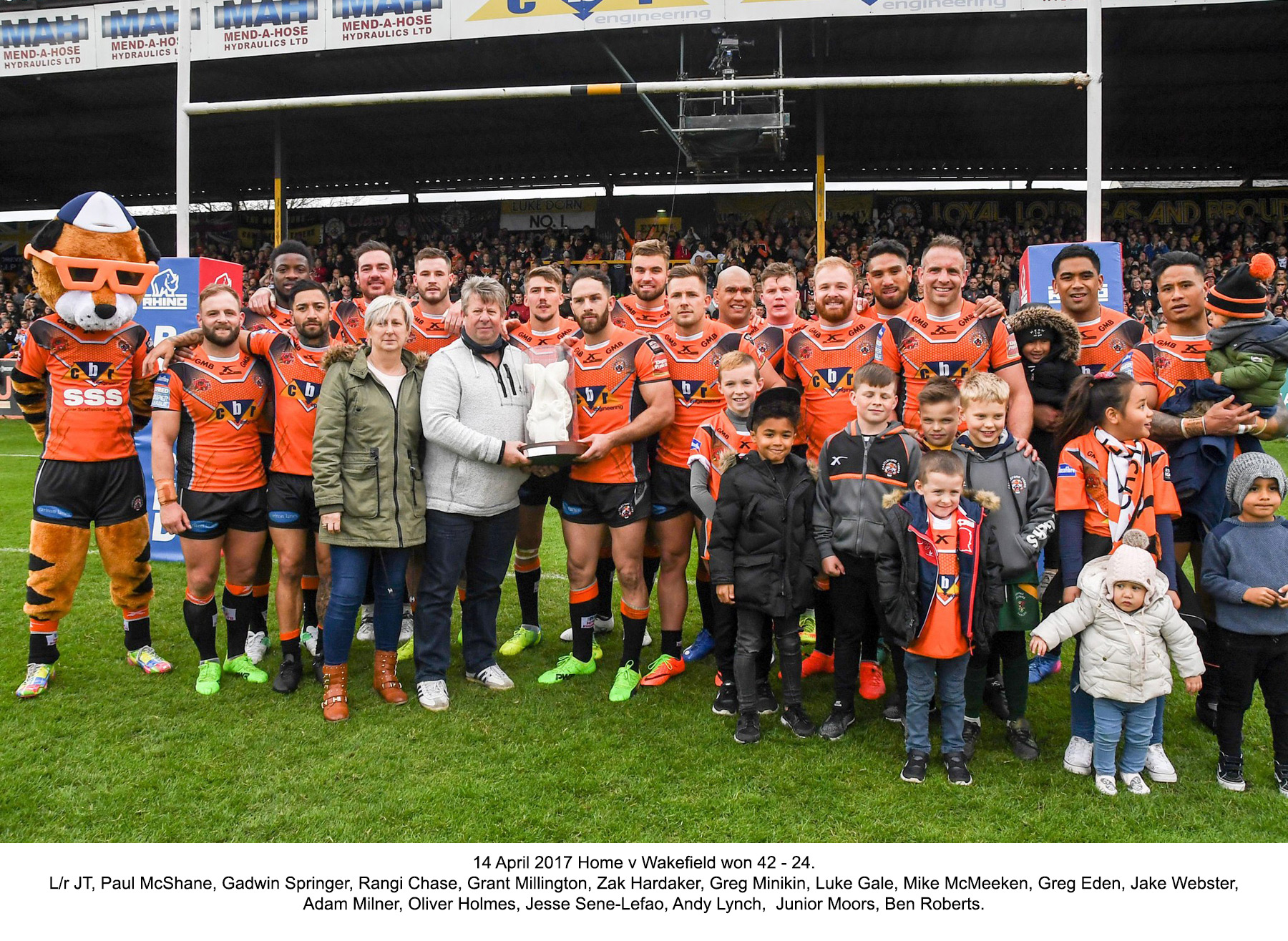 680-3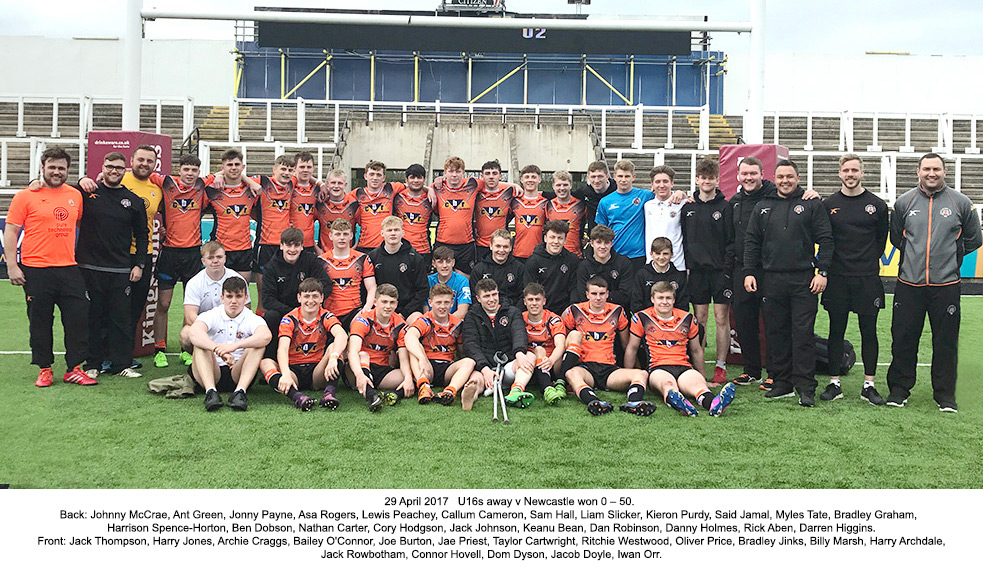 680-4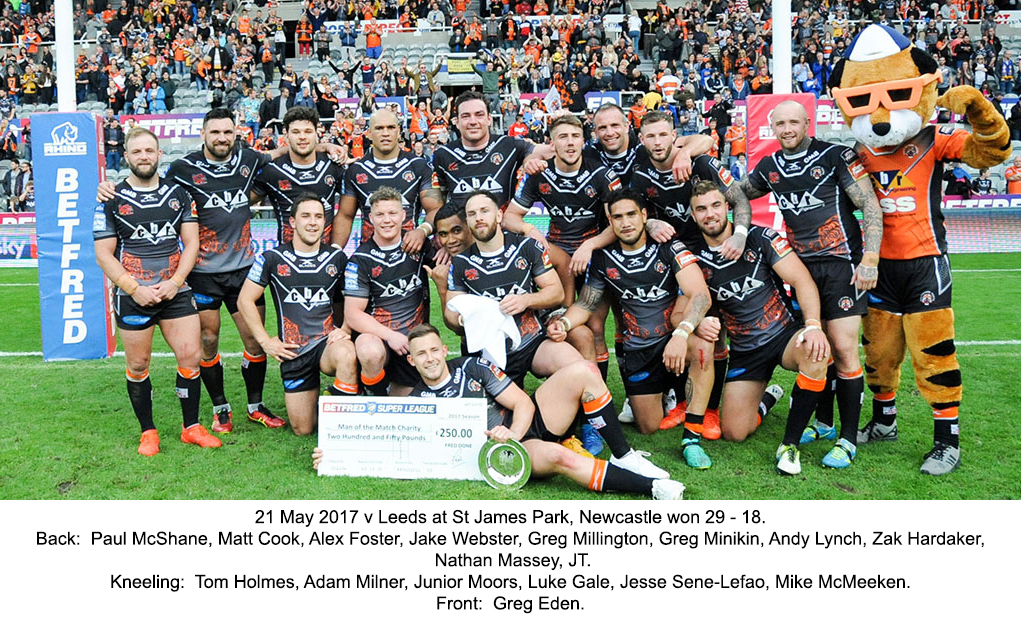 680-5