Resource type: Articles
2017 Season Review
Paul Hampton
For the first time in Castleford's 91 year history as a senior club they finished at the top of the table. After the regular season of 23 games the twelve team league split into the Super 8s at the top, with the bottom four joining with the Championship top four in the Qualifiers to determine promotion and relegation. Castleford finished the regular season at the top, ten points clear and maintained the lead to the end of the season. They were so far in front that the shield was awarded to them after only three games of the seven game series as they could not be caught.
| | | | | | | | | | |
| --- | --- | --- | --- | --- | --- | --- | --- | --- | --- |
| Final Table 2017 | P | W | D | L | FOR | AGST | DIFF | PTS | |
| Castleford Tigers | 30 | 25 | 0 | 5 | 965 | 536 | 429 | 50 | |
| Leeds Rhinos | 30 | 20 | 0 | 10 | 749 | 623 | 126 | 40 | |
| Hull FC | 30 | 17 | 1 | 12 | 714 | 655 | 59 | 35 | |
| St Helens | 30 | 16 | 1 | 13 | 663 | 518 | 145 | 33 | |
| Wakefield Trinity | 30 | 16 | 0 | 14 | 745 | 648 | 97 | 32 | |
| Wigan Warriors | 30 | 14 | 3 | 13 | 691 | 668 | 23 | 31 | |
| Salford Red Devils | 30 | 14 | 0 | 16 | 680 | 728 | -48 | 28 | |
| Huddersfield Giants | 30 | 11 | 3 | 16 | 663 | 680 | -17 | 25 | |
The record breaking season was one of many achievements -
Luke Gale voted Man of Steel and RL Writers Association Player of the Year. He also won the League Express magazine Albert Goldthorpe Medal as Player of the Season for the third consecutive time.
Daryl Powell voted Coach of The Year
Castleford Tigers voted Club of The Year
Luke Gale topped the goal scoring list with 145 and was top points scorer in the league with 355
Greg Eden was top try scorer in the League with 41 in all competitions
The club won the league by a record Super League margin of 10 points and equalled the highest points of 50. It had the best attack and second best defence in the table. The points difference was 284 higher than the next best team.
The club had record wins over Leeds (66-10), St Helens (53-10) and Wigan (54-4)
Greg Eden scored hat tricks in four successive games - the first time ever for a professional player
Greg Eden scored a hat trick at Leigh in 4 mins 59 secs, the fastest in history beating the previous recordof 6 mins 30 secs
---
Allan Humphries
The 2017 season was the one Castleford fans had been dreaming of all their lives. Well almost.
After three years of steady progress under coach Daryl Powell, 2017 was the year the team finally took Super League by storm. They started off with all guns blazing, scoring over 40 points against newly promoted Leigh, followed shortly after by a 66-10 win over local rivals Leeds. Eight wins in the first eleven games put Cas near the top of the table, before Wigan were beaten 54-4 as the team really hit top gear. The Wigan win was the first of nine consecutive wins that put the team several points clear at the top of Super League - a position they were to hold for the rest of the season. During that period left-winger Greg Eden scored 18 tries in just six matches as opposing teams found the left-edge attack of Luke Gale, Michael Shenton, Zak Hardaker and Eden impossible to stop. Eden's five tries against Warrington on 11th June equalled the club record for tries in a match.
There were times when the team seemed to be playing a different game to their opponents. Other teams were trying to "win the ruck", get "good field position" and "build pressure", which is an approach teams seem to have been brainwashed into by a generation of Australian coaches. But Cas didn't seem to bother with any of that. They just moved the ball quickly, attacked from anywhere on the field and scored some spectacular tries. When interviewed about their style, Daryl Powell just said he wanted players to enjoy themselves, throw the ball about and entertain the supporters. When asked whether he felt it was a risky way to play he replied that there was no point players practising skills in training if they weren't encouraged to use them during matches. Enough said!
Despite a Challenge Cup exit following a defeat at Hull, the league wins continued. Six wins in the following seven matches meant that a win at home to Wakefield on 17th August - a full month before the end of the league programme - would confirm Cas as League Leaders for the first time in the club's 91 year history. After a slightly nervous start, the team duly obliged with a 45-20 win to trigger some memorable scenes at the old Wheldon Road ground.
Despite top spot being guaranteed, there was no let-up in performances in the lead up to the Top 4 Playoffs. A fourth win of the season against Leeds included seven goals from Luke Gale, which took him past Bob Beardmore's 33 year-old club record for the most points in a season. Gale was to end the season with 355 points, from 14 tries, 145 goals and 9 drop goals. This win was followed by a second win of the season at Wigan, including three tries for Jake Trueman in his first Super League start.
The build-up to the play-off semi-final, a home game against St Helens, did not go smoothly. Although Greg Eden had recovered from a shoulder injury that threatened to end his season, that feared left-edge attack had lost some of its cohesion. Even more of a worry was the potential loss of Luke Gale who had undergone emergency surgery for appendicitis just 16 days before the semi-final. Against the odds, he made a return to fitness and, as things turned out, it was just as well. After letting a 10 point lead slip, it looked like the season was over for Cas as Saints led by two points inside the last minute. But Luke Gale held his nerve to kick a last-gasp penalty to send the match into "Golden Point" extra time. All those who witnessed the match, either live or on television, will remember what followed for many years to come. Both sides failed with drop goal attempts, before Luke Gale sent his second effort through the posts to give Cas a 23-22 win. They were through to their first Super League Grand Final - the club's first appearance in a league title play-off final since 1994.
Having overcome the upheaval caused by Eden's injury and Gale's surgery, the preparation for the Grand Final suffered an even greater blow when, just two days before the final, news emerged that Zak Hardaker would not be playing, having failed a drugs test a few weeks earlier.
In the circumstances, the final proved to be one step too far. It rained all day and continued to rain all through the match. Cas didn't perform, but were beaten more by the occasion and the weather than by their opponents. But looking back now, that final match seems almost irrelevant. The season had still been the best in living memory for the majority of the club's supporters. The way the team had played had made everyone proud to be a Cas supporter. 2017 was "Classy Cas" with knobs on.
In the words of Neil Diamond, good times never seemed so good.
Personal favourite moments:
A number of spectacular long-range tries: Luke Gale at Warrington; Greg Eden at Wigan; Zak Hardaker at Headingley to name a few.
Generally, just the way the team played for the whole season made my favourite moment last for seven months, almost without a break. At last somebody had the nerve and the imagination to break the mould and play in a different way. I was so proud it was Cas!
Watching the League Leadership decider against Wakefield in a hotel bedroom in New Zealand at 6.30am local time. When we arranged to go and see our daughter, it never occurred to us that they would win it before we got home! Then getting a phone call from my 28-year-old son at the ground at full time. He admitted he had shed a tear but said it was ok because nearly everybody around him was doing the same thing. Having watched the team home and away since he was 6, this was the first time he had actually seen them win anything. Thanks boys!
But my absolute favourite moment was the 16-12 win against St Helens. This was a much weakened Cas team, including several fringe players and Kieran Gill and Jake Trueman playing their first games in Super League. Saints were at full strength but eventually came off second best. It was not just about having the will to win. It was about having a bloody-minded refusal to be beaten, and this win, more than the numerous big scores, convinced many observers that this team was the "real deal".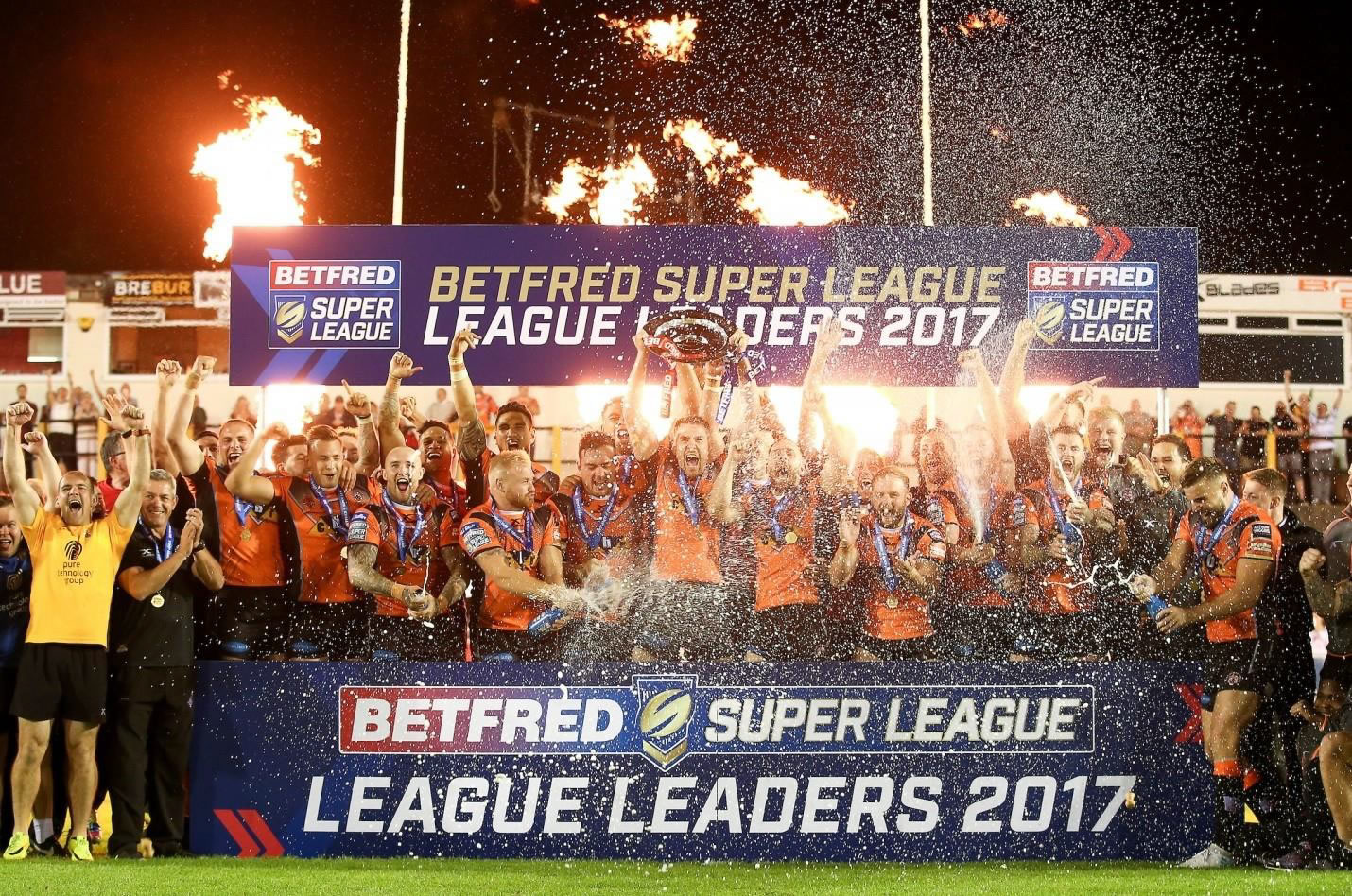 Margaret Hudson
The 2017 season was brilliant for Cas fans worldwide, and believe you me our fans are everywhere!! My two sons have been serving overseas all season with HM forces in very far flung places, and so find Harvey Wiles' commentaries online are an absolute lifeline for a Cas fan. My regret is, as lifelong Cas fans they didn't see any live matches, but thanks Harvey for your efforts.
I am so proud of the whole season regardless of the odd bad result. Cas learned the ability to bounce back, and watching our team play made you realise they had the mindset and ability to do "IT" this last season. Confidence was so high we never doubted the team, and Daryl's ability to keep them at the top. At the home game against Wakefield when we won the League Leaders Shield, a small group of Canadian people stood behind us, and explained that they were staying in the area and had been told to come to the match because something very special was going to happen here tonight!! AMAZING!!! They loved it too.
A changing of the guard at the top of Super League even got our sport talked about on BBC Breakfast, and that's unheard of. They even talked on there about a man in a corset who had just had his appendix out winning us the match against St Helens, of course Luke Gale.
There were times when the play was sublime and took our breath away completely leading me many times to say out loud to whoever was listening at the match "Crikey we are so good".
We fell at the last hurdle at Old Trafford but nevertheless I loved the whole experience of the day as I had never been to a Grand Final before, and wanted to support my own team whatever happened.
All I can say to the whole Castleford Tigers club and staff is thank you so much for the memories. I will never forget your achievements this 2017 season. The best season with the most entertaining rugby seen by anyone for a long, long time, be you a Cas fan or not.
It's been a pleasure to be part of it all. In fact it's been absolutely awesome!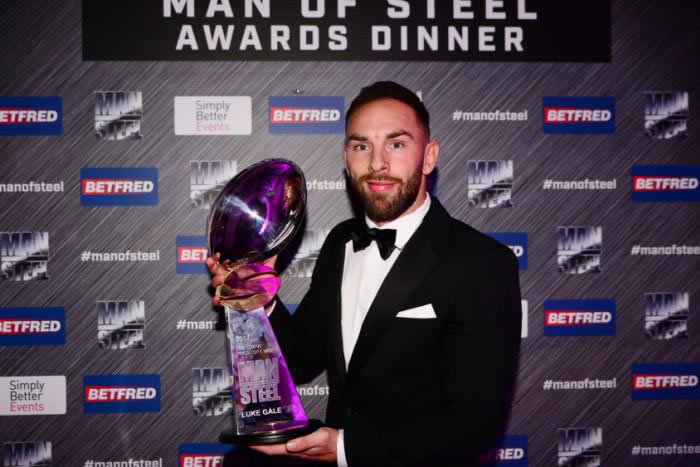 Harvey Wiles - Tiger Talk
If I were to say it had been a fantastic season, that would be the understatement of the year. Dave Williams and myself provided almost all the coverage, but on occasions we had the help of my son Mark, and Mick Gledhill to help out to provide the service.
League Leaders Shield Winners, what an achievement. OK we lost in the Grand Final to arch rivals Leeds Rhinos, in what was probably our worst performance of the year. We did beat them on four occasions during the season, but it was still a bitter pill to swallow the Grand Final Defeat.
With regards the Tiger Talk Radio aspect, we have gone from strength to strength, capitalising on our ability to produce full uninterrupted commentary on every game (well almost, we didn't go to Catalan, and the Hull Super 8 game, we were both away), but other than those two we provided full match commentary (wi-fi permitting) on all the other games.
The listening figures were affected when we were on SKY TV, which was to be expected, but when we were not on TV we captured a large chunk of the listening market, and now have several thousand regular listeners to each game, listening from over 100 countries throughout the year. Lots of those would be holiday makers in the Canaries and Florida, as the application for broadcasting shows where all the listeners are. Qatar was a regular outpost for a listener, many in Australia and New Zealand were early morning listeners, the Caribbean was a popular listening venue, as was Castleford on a cold wet and windy Friday night.
The official figures provided were that we had over the season 35,000 devices tuned in with total listening minutes of 2.3 million from 102 countries. Amazing really, as we are not really known in Castleford, let alone the rest of the world! We need to spread the word about this fantastic service, which at the moment is a free download application for mobile phones, PCs and tablets.
We also provide a twitter response to mine and Dave's personal twitter accounts, and try and respond with mentions to anyone who asks. We have our regular listeners, none more than Diane Howard, who I am sure a lot of you know. Diane is not in good health at the moment but is a true stalwart of the club, herself providing IT help for the Club for many years until recently.
There were many more ups than downs recording, also many more cold and windy days than warm and sunny ones - who says summer Rugby was to be played in summery conditions?
We will provide some commentary from tries from certain matches in our next bulletin, but if I were to mention my top 10 matches to commentate on last season, they would be:
The opening league game against Leigh on a damp February night, when the dye was set for the season, a succession of fantastic home performances kept us unbeaten at the Jungle for over a year. 44-16
Battle of Hastings against Leeds 10-66, as Franki Vallli said "Oh what a night".
Then putting 50 points past Wigan, when Shaun Wane in the press conference had the audacity to say "no Wigan side should ever lose by 50 points at Castleford". Well Castleford even rubbed salt into the wound and went on to beat Wigan on their home soil twice. If only Daryl had sent a text to Wane after Wigan won the WCC, none of this would have happened. Apparently!!!!!!! 54-4
The drubbing of Saints in the cup, and a never to be forgotten Saturday afternoon. Unfortunately, we couldn't do the same at Hull in the next round. 50 points against Wigan and Saints, you're having a laugh 53-10
The victory over Saints in the league, with a depleted side, when Tom Holmes dramatically followed a kick through to score in the dying minutes to record a famous victory. 16-12
A match that also provided great commentary was Wakefield Trinity away, losing 16-0 at the break, and lucky to have scored Nil as Bill Shankly would have said. We turned it round with a great second half performance, with Luke Gale snatching victory from the jaws of defeat with a last minute drop goal. I think he did that later in the season in another game. 24-25
Magic Weekend, a tremendous victory over arch enemy Leeds Rhinos, Cas had the largest following with over 4000 cheering the black and ambers home, and making the long drive home very pleasurable after being the last game of the weekend. 29-18
The League Leaders Shield confirmation victory over our nearest rivals (geographically) Wakefield Trinity. A Liam Finn penalty and a stuttering first half left us wondering what the second half would bring. It brought the inevitable, a victory that saw a full house of over 11,000 explode into euphoria. Sweet Caroline never sounded so sweet, or so they said in Featherstone as they had to shut the windows to keep the sound out. Destination Super League ?????? 45-20
And what used to be a rare victory but now is an accepted two points, Headingley, with another solid performance, although not quite as good at victory there last season with a 50 point drubbing. Still nice to win there. 12-23
Not spectacular, but nevertheless an important victory at that time of the season, and in a Steve Gill interview, one of the best victories of the season. Depleted with international call ups and injuries, it was at Huddersfield with a 16-24 victory.
There were so many good games to commentate on, but those are my favourite 10.
You may wonder why not Cas v Saints semi-final play-off. Unfortunately I was on holiday for that one.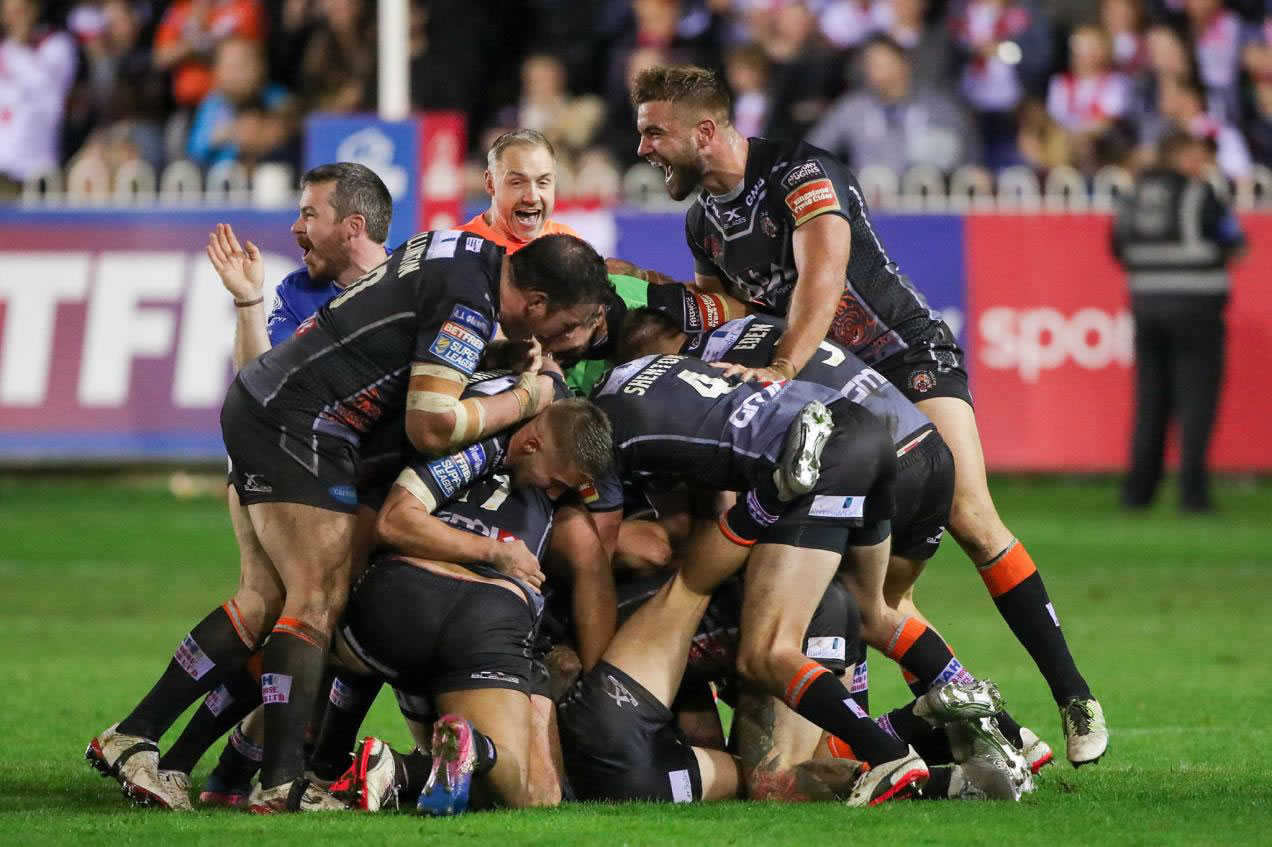 SEASON 2017
NO
PLAYER
DEBUT
LAST
MATCH
APP
SUB
TOT
APP
T
G
DG
PTS
759
LYNCH ANDY
22/09/2017
16
5
21
0
0
0
0
810
SHENTON MICHAEL
28
0
28
7
0
0
28
876
MASSEY NATHAN
27
3
30
1
0
0
4
887
COOK MATTHEW
3
20
23
3
0
0
12
894
CHASE RANGI
04/05/2017
3
5
8
0
0
0
0
907
HOLMES OLIVER
7
3
10
1
0
0
4
910
MILNER ADAM
22
7
29
4
0
0
16
918
EDEN GREG
31
0
31
41
0
0
164
925
MILLINGTON GRANT
19
11
30
6
0
0
24
934
WEBSTER JAKE
28
0
28
16
0
0
64
950
MAHER WILL
0
1
1
0
0
0
0
952
GALE LUKE
30
0
30
14
145
9
355
953
MOORS JUNIOR
3
20
23
2
0
0
8
955
ROBERTS BEN
25
4
29
12
0
0
48
956
McMEEKEN MIKE
31
1
32
9
0
0
36
959
HOLMES TOM
22/09/2017
4
4
8
2
0
0
8
960
SPRINGER GADWIN
7
13
20
1
0
0
4
961
McSHANE PAUL
33
0
33
4
17
0
50
962
MONAGHAN JOEL
22/09/2017
13
3
16
8
0
0
32
964
HITCHCOX JY
9
1
10
3
0
0
12
966
MINIKIN GREG
29
0
29
22
0
0
88
967
PATRICK LARNE
0
7
7
0
0
0
0
968
FITZSIMMONS CONOR
0
0
0
0
0
0
0
972
DOUGLAS BRANDON
0
0
0
0
0
0
0
973
HARDAKER ZAK
10/02/2017
30
0
30
13
1
0
54
974
SENE-LEFAO JESSE
10/02/2017
27
7
34
6
0
0
24
975
FOSTER ALEX
04/05/2017
11
8
19
2
0
0
8
976
LARROYER KEVIN
29/05/2017
22/09/2017
2
5
7
0
0
0
0
977
GILL KIERAN
04/06/2017
1
0
1
1
0
0
4
978
TRUEMAN JAKE
04/06/2017
2
1
3
3
0
0
12
979
EGODO TUOYO
22/09/2017
1
0
1
3
0
0
12
31
7
5
442
129
571
184
163
9
1071
| | | | | | | | | |
| --- | --- | --- | --- | --- | --- | --- | --- | --- |
| COMPETITION | | P | W | D | L | FOR | AGNST | |
| SUPER LEAGUE POSITION | 1 OF 12 | 23 | 20 | 0 | 3 | 769 | 378 | |
| SUPER 8'S | | 7 | 5 | 0 | 2 | 196 | 158 | |
| RL CUP | | 2 | 1 | 0 | 1 | 77 | 42 | |
| S.L. PLAY OFFS | | 2 | 1 | 0 | 1 | 29 | 46 | |
| PLAYERS RECORDS | | 34 | 27 | 0 | 7 | 1071 | 624 | |
---
SEASON 2017
Monday 26 December 2016 HULL F C home won 42 - 10 FRIENDLY

CASTLEFORD - Hardaker: Eden Webster Shenton Minikin: Chase T.Holmes: Springer McShane Millington Sene-Lefao McMeeken Massey:
Subs used - Moors Maher Egodo Douglas Dixon Fitzsimmons Igbinedion Johnson McLelland Million Render Sheehan Turner Westerman:
Tries - Eden(3) Minikin(2) McMeeken Hardaker Edogo Million:
Goals - McShane(2) Turner(1);
HULL FC - Naughton: Michaels Rawsthorne Griffin Lancaster: Tuimavave Wray: Bowden Hadley Green Downs Washbrook Thompson:
Subs used - Turgut Fash Matongo Litten Osbourne Lane Bower Sanderson Adlard Silk Wood Lee
Tries - Lancaster Litten:
Goal - Rawsthorne(1):
Referee - Mr J Smart
Att - 5106
Half time

Sunday 15 January 2017 WAKEFIELD TRINITY away lost 30 - 32 FRIENDLY

WAKEFIELD - Grix: Caton-Brown B Tupou Lyne Johnstone: Miller Williams: Huby Sio Allgood Ashurst Kirmond Arona:
Subs used - Jones-Bishop Finn Wood Arundel Walker Batchelor Crowther Hirst:
Tries - Lyne Williams Tupou Batchelor Arundel Johnstone Walker :
Goals - Williams(2):
CASTLEFORD - Eden: Monaghan Webster Egodo Minikin: Roberts Gale: Lynch McShane Springer Moors Cook Sene-Lefan:
Subs used - Douglas Chase Fitzsimmons T.Holmes Igbinedon Johnson Million Sheehan Maher Turner:
Tries - Gale Minikin McShane Eden Million:
Goals Gale(4) Eden:
Referee Mr G Hewer
Att - 2029
Half time 20 - 4

Friday 27 January 2017 BATLEY BULLDOGS away lost 38 - 12 FRIENDLY

BATLEY B - Scott: Reittie Smeaton Hallett Ainscough: Southernwood Brambani: Hill Leak Rowe Manning Harrison Walker:
Subs used - Brown Davey Sullivan Bravo Chandler Bretherton Hayward Squires:
Tries - Hariison(2) Scott(2) Reittie Rowe Hill:
Goals - Walker(3) Brambani Southernwood:
CASTLEFORD(Mainly Academy Players) - Sweeting: Sheehan Gill Egodo Turner: Mcllelland: T.Holmes: Douglas Million Maher Johnson FitzsimmonsO'Neal:
Tries - Gill Sheehan:
Goals - Sweeting(2):
Referee - Nick Bennett
Att - 602
Half Time 20 - 12

Sunday 29 January 2017 SAINT HELENS away won 22 - 6 FRIENDLY

ST HELENS - Lomax: Makinson Fleming Percival Swift: Richardson Fages: Douglas Roby Walmsley Greenwood Peyroux Wilkin:
Subs used - Amor Walker Thompson Lee Knowles Ashworth Grace Cunningham:
Try - Swift:
Goal - Percival:
CASTLEFORD - Hardaker: Eden Shenton Webster Minikin: Chase Gale: Lynch McShane Springer Sene-Lefao McMeeken Massey:
Subs used - Millington Million Moors Cook Monaghan Gill:
Tries - Chase Hardaker Sene-Lefao Millington:
Goals - Gale(3):
Referee Mr J Child
Att - 2284
Half time 10 - 0

Friday 10 February 2017 LEIGH CENTURIONS home won 44 - 16

CASTLEFORD - ZAK HARDAKER(973): Minikin Webster Shenton Eden: Chase Gale: Lynch McShane Springer JESSE SENE-LEFAO(974) McMeeken Massey:
Subs used - Millington Moors Cook Roberts:
Tries - Gale(2) Minikin(2) Sene-Lefao Moors Eden:
Goals - Gale(8):
LEIGH C - Hampshire: Higson Crooks Brown Dawson: Ridyard Drinkwater: Hock Hood Tickle Paterson Stewart Hansen:
Subs used - Pelissier Vea Green Weston:
Tries - Hampshire Dawson Tickle:
Goals - Ridyard(2):
Referee Mr R Hicks
Att - 8522
Half time 26 - 0

Friday 24 February 2017 WARRINGTON WOLVES away won 30 - 22

CASTLEFORD - Hardaker: Minikin Webster Shenton, Eden: Chase Gale: Lynch Milner Springer Sene-Lefao McMeeken Massey:
Subs used - Millington Moors Cook: Not used - Monaghan:
Tries - Eden (2) Sene-Lefao Hardaker Gale Minikin:
Goals - Gale (3)
WARRINGTON - Johnson: Russell Evans Atkins Lineham: Brown Patton: Cooper Clark Sims Hughes Savelio Westerman:
Subs used - Dwyer Crosby Livett Westwood
Tries - Savelio(2) Lineham(2)
Goals - Patton(2) Livett (1)
Referee Mr R Hicks
Att - 11374
Half time 22 - 10

Thursday 2 March 2017 LEEDS RHINOS home won 66 - 10

CASTLEFORD - Hardaker: Minikin Webster Shenton, Eden: McShane Gale: Lynch Milner Springer Sene-Lefao McMeeken Massey:
Subs used - Millington Moors Cook: Not used - Maher:
Tries - Minikin(3) Eden(3) McMeeken Hardaker McShane Webster Gale Shenton:
Goals - Gale(9):
LEEDS R - Golding: Handley Watkins Moon Hall: McGuire Sutcliffe: Singleton Parcell CuthbertsonKeinhorst Delaney Walters:
Subs used - Ormondroyd Mullally Baldwinson Lilley
Tries - Mullally Moon: Goal - Sutcliffe
Referee - Mr B Thaler
Att 11500(full house)
Half Time 30 - 0

Sunday 12 March 2017 WIDNES VIKINGS away won 34 - 0

CASTLEFORD - Hardaker: Monaghan Minikin Shenton Eden: McShane Gale: Lynch Milner Springer Sene-Lefao McMeeken Massey:
Subs used - Millington Moors Cook Roberts:
Tries - Minikin(2) Eden(2) Shenton Cook:
Goals - Gale(5):
WIDNES V - Hanbury: Thompson Armstrong Runciman Marsh: Bridge Craven: Chapelhow White Buchanan Houston Whitley Cahill:
Subs used - Heremaia Leuluai Olbison Burke:
Referee - Mr J Smith
Att - 6396
Half Time 22 - 0

Sunday 19 March 2017 SALFORD RED DEVILS away lost 12 - 13

CASTLEFORD - Hardaker: Minikin Webster Shenton Eden: Roberts Gale: Lynch McShane Massey Sene-Lefao McMeeken: Milner
Subs used - Millington Moors Cook Springer:
Tries - Gale Minikin:
Goals - Gale(2):
SALFORD R D - O'Brien:Johnson Wellam Sa'u J Carney: Lui Dobson: A Walne Tomkins Mossop Murdoch-Masila Griffin Flanagan:
Subs used - Brining Krasniqi Kopczak Not used -- T Carney:
Referee - P Bentham
Att 5221
Half Time 6 - 4

Sunday 26 March 2017 CATALAN DRAGONS home won 43. - 26

CASTLEFORD - Hardaker: Monaghan Webster Shenton Eden: Roberts Gale: Lynch McShane Massey Millington McMeeken: Milner
Subs used - Moors Cook Chase Sene-Lefao:
Tries - Eden(2) Hardaker Millington Monaghan Moors Shenton:
Goals - Gale(7) D/G:
CATALAN D - Williame: Yaha Inu Duport Thornley: Walsh Myler: Moa Aiton Casty Bousquet Garcia Burgess:
Subs used - Anderson Baitieri Da Costa Margalet:
Tries - Thornley Myler Anderson Duport:
Goals - Walsh(5):
Referee - Mr J Smith
Att - 8126
Half Time 22 - 14

Friday 31 March 2017 HUDDERSFIELD GIANTS home won 52 - 16

CASTLEFORD - Hardaker: Monaghan Webster Shenton Eden: Roberts Gale: Sene-Lefao McShane Moors Millington McMeeken: Milner
Subs used - O.Holmes Cook Chase Springer:
Tries - Gale(3) Monaghan(3) Roberts Webster McMeeken:Milner:
Goals - Gale(6):
HUDDERSFIELD - McIntosh: McGillvary Cudjoe Mellor Ormsby: Gaskell Brierley: Ikahihifo Hinchcliffe
Wakeman Ta'ai Ferguson Clough:
Subs used - Rapira Leeming Smith Dickinson:
Tries - Hinchliffe Brierley Gaskell:
Goals - Brierley(2):
Referee Mr C Kendall
Att - 8035
Half Time 16 - 4

Thursday 6 April 2017 WIGAN WARRIORS away won 27 - 10

CASTLEFORD - Hardaker: Monaghan Webster Minikin Eden: Roberts Gale: Massey McShane Cook O.Holmes McMeeken Milner:
Subs used - Sene-Lefao Moors Springer Chase:
Tries - Webster Gale Sene-Lefao Eden:
Goals - Gale (5) D/G
WIGAN W - Escare: Davies Forsyth Isa Marshall: Williams Leuluai: Nuuausala Powell Flower Tomkins Farrell Sutton:
Subs used - Clubb Tautai Gregson Brotherton:
Tries - Escare(2): Goal - Escare
Referee - Mr R Hicks
Att - 12423
Half Time 14 - 4

Friday 14 April 2017 WAKEFIELD TRINITY home won 42 - 2

CASTLEFORD - Hardaker: Monaghan Webster Minikin Eden: Roberts Gale: Lynch McShane Springer O.Holmes McMeeken: Milner
Subs used - Sene-Lefao Moors Millington Chase
Tries - Webster(2) Millington(2) Roberts O.Holmes Eden:
Goals - Gale(7):
WAKEFIELD T - Grix: Jones Bishop Arundel Tupou Johnstone: Miller Williams: Fififta Wood Allgood Ashurst Kirmond Arona:
Subs used - Finn Hadley Huby England:
Yries - Fififta(2) Tupou Jones Bishop:
Goals - Williams(3) Finn
Referee - Mr C Kendall At - 10349
Half Time 36 - 12

Monday 17 April 2017 SAINT HELENS away lost 22 - 26

ST HELENS - Makinson: Swift Fleming Percival Grace: Fages, Smith: Amor Lee Walmsley Taia Wilkin Thompson:
Subs used - Douglas Walker Peyroux Knowles:
Tries - Fleming Douglas Percival Grace:
Goals - Percival(5)
CASTLEFORD - Hardaker: Minikin Webster Shenton Eden: Roberts Gale: Lynch McShane Moors Millington McMeeken Massey
Subs used - Sene-Lefao O.Holmes Milner Cook:
Tries - Eden(2) Roberts(2):
Goals - Gale(3):
Referee M C Cambell
Att 12499
Half Time 8 - 20

Sunday 23 April 2017 HULL F C away lost 24 - 26

HULL F C - Shaul: Fonua Tuimavave Connor Michaels: Kelly Sneyd: Taylor Washbrook Watts (S/O) Manu Minichello Ellis:
Subs used - Green Thompson Turgut Fash:
Tries - Fonua(2) Taylor Tuimavave:
Goals - Sneyd(5):
CASTLEFORD - Hardaker: Minikin Webster Shenton Eden: Roberts Gale: Lynch McShane Springer O.Holmes McMeeken Milner
Subs used - Sene-Lefao Moors Millington Monaghan:
Tries - Roberts(2) Minikin Shenton McMeeken:
Goals - McShane(2):
Referee - Mr R Hicks
Att - 12801
Half Time 14 - 20

Saturday 29 April 2017 WIGAN WARRIORS home won 54 - 4

CASTLEFORD - Hardaker: Minikin Webster Shenton Eden: Roberts Gale: Millington McShane Massey Sene-Lefao McMeeken Milner
Subs used - Chase Cook Moors Monaghan:
Tries - Minikin(2) Milner Shenton Cook McMeeken Gale Millington Webster:
Goals - Gale(8) McShane:
WIGAN W - Escare(S/B): Davies Gelling Burgess Marshall: Williams Powell: Nuuausala(S/B) McIlorum Flower J Tomkins Farrell O'Loughlin:
Subs used - Tautai Sutton Isa Ganson:
Try - Powell:
Referee - Mr R Hicks
Att - 9333
Half Time 26 - 4

Thursday 4 May 2017 HUDDERSFIELD GIANTS away won 26 - 21

CASTLEFORD - Eden: Minikin Webster Shenton Monaghan: Rangi Chase McShane: Lynch Milner Millington Sene-Lefao ALEX FOSTER(975) Massey
Subs used - Cook Moors T.Holmes Springer:
Tries - Monaghan Minikin Eden Sene-Lefao:
Goals - McShane(5):
HUDDERSFIELD G - Mamo: McIntosh Murphy Mellor Ormsby: Brough Wood: Ikahihifn Leaming Wakeman Roberts Ferguson Hinchcliffe:
Subs used - O'Brien Rapira Smith Clough:
Tries - Mamo(3):
Goals - Brough(4) D/G
Referee - Mr B Thaler
Att - 5566
Half Time 12 - 18

Sunday 13 May 2017 SAINT HELENS home won 53 - 10 R.L Challenge Cup 6th Round

CASTLEFORD - Hardaker: Minikin Webster Shenton Eden: T.Holmes Gale: Lynch McShane Millington Sene-Lefao McMeeken Milner:
Subs used - Massey Cook Moors Roberts:
Tries - Eden(3) Minikin(2) Webster(2) Shenton McShane Massey; Goals - Gale(6) D/G:
ST HELENS - Makinson: Swift Percival Morgan Grace: Fages Smith: Walmsley Roby Douglas Taia Knowles Thompson:
Subs used - Amor Wilkin McCarthy-Scarsbrook Richards:
Tries - Morgan Douglas: Goal - Percival
Referee - Mr P Bentham
Att - 5714
Half Time 31 - 4

Sunday 21 May 2017 LEEDS RHINOS won 29 - 18 Magic Weekend at St James Park Newcastle

CASTLEFORD - Hardaker: Minikin Webster Shenton Eden: T.Holmes Gale: Lynch McShane Millington Sene-Lefao McMeeken Milner:
Subs used - Massey Cook Moors Foster:
Tries Eden(3) Gale T.Holmes:
Goals - Gale(4) D/G
LEEDS R - Goulding: Briscoe Watkins Sutcliffe Hall: Moon McGuire: Singleton Purcell Cuthbertson Ferres Ward Jones-Buchanan:
Subs used - Handley Delaney Mullally Burrows
Tries - Watkins Moon Sutcliffe:
Goals - Sutcliffe(3):
Referee - Mr P Bentham
Att - 30046
Half Time 6 - 6

Friday 26 May 2017 WIDNES VIKINGS home won 32 - 22

CASTLEFORD - Hardaker: Monaghan Minikin Shenton Eden: Roberts Gale: Lynch McShane Millington Sene-Lefao McMeeken Massey:
Subs used - Milner Cook Springer: Not used - T.Holmes:
Tries - Eden(3) Springer Minikin Cook:
Goals Gale(4):
WIDNES V - Johnson: Ince Chamberlein Runciman Thompson:Heremaia Johnstone: Buke White Gerrard Walker Olbison James Chapelhow:
Subs used - Ed Chapelhow Cahill Walker Manuokoa:
Tries - Ince Johnson Thompson Johnstone:
Goals - Chamberlein(3):
Referee - Mr C Cambell
Att - 7648
Half Time 10 - 12

Monday 29 May 2017 LEIGH CENTURIONS away won 38 - 0

LEIGH C - McNally: Dawson Crooks Flemming Brown: Reynolds Drinkwater: Acton Hood Burr Paterson Vea Stewart:
Subs used: Pelissier Tickle Maria Hopkins:
CASTLEFORD - Hardaker: Minikin Webster Shenton Eden: Roberts Gale: Massey McShane Millington Sene-Lefao McMeeken Milner:
Subs used - Cook Moors KEVIN LARROYER(976) T.Holmes:
Tries Eden(4) Sene-Lefao(2) Webster:
Goals - Gale(5):
Referee Mr C Kendal
Att 5905
Half Time 28 - 0

Sunday 4 June 2017 SAINT HELENS home won 16 - 12

CASTLEORD - Eden: KIERAN GILL(977) Webster Monaghan Minikin: Roberts T.Holmes: Lynch
McShane Massey Foster Larroyer Sene-Lefao:
Subs used - McMeeken Moors Hitchcox JAKE TRUEMAN(978) Tries - Gill McMeeken T.Holmes:
Goals - McShane(2):
ST HELENS - Makinson: Swift Morgan Percival Grace: Lomax Smith: Walmsley Roby Amor Taia Wilkin Knowles:
Subs used - Lee McCarthy-Scarsbrook Douglas Thompson:
Tries - Percival McCarthy-Scarsbrook:
Goals Makinson(2):
Referee - C Cambell
Att - 8550
Half Time 4 - 12

Sunday 11 June 2017 WARRINGTON WOLVES home won 36 - 16

CASTLEFORD - Hardaker: Minikin Monaghan Shenton Eden: Roberts Gale: Lynch McShane Millington Sene-Lefao McMeeken Massey:
Subs used - Milner Moors Foster T.Holmes
Tries - Eden(5) Minikin McMeeken:
Goals Gale(4):
WARRINGTON W - Dagger: Penny Ratchford Blythe Lineham: Patton Westerman: Hill Clark Sims Julian Hughes Cooper:
Subs used - Dwyer G King Savelio Philbin:
Referee - Mr J Child
Att - 8577
Half Time 26 - 6
Eden equaled the the most tries scored in a match at 5

Sunday 18 June 2017 HULL F C away lost 24 - 32 R.L. Challenge Cup Quarter-finals

CASTLEFORD - Hardaker: Minikin Webster Shenton Eden: Roberts Gale: Lynch McShane Massey Sene-Lefao McMeeken Milner:
Subs used Millington Patrick Foster Larroyer
Tries - Roberts(2)Minikin Hardaker:
Goals Gale(4):
HULL FC - Shaul: Michaels Fonua Tuimavave Talannoa: Kelly Conner: Bowman Houghton Watts Washbrook Minichielio Manu:
Subs used - Thompson Taylor Turgut Fash:
Tries - Tuimavave Talannoa Fonua Shaul:
Goals _ Connor(8):
Referee - Mr P Bentham
Att - 11944
Half Time 12 - 14

Friday 23 June 2017 LEEDS RHINOS away won 23 - 12

CASTLEFORD - Hardaker: Hitchcox Webster Minikin Eden: Roberts Gale: Sene-Lefao McShane Millington Foster McMeeken Milner:
Subs used Massey Patrick Springer: Not used - T.Holmes
Tries - Eden Hardaker Millington:
Goals - Gale(5) D/G:
LEEDS R - Sutcliffe: Briscoe Watkins Hall Handley: McGuire(S/B) Moon: Singleton Parcell Galloway Ward Jones-Buchanan Ferres:
Subs used - Cuthbertson, Walker, Mullally, Garbutt Tries - Hadley Cutrhbertson:
Goals - Sutcliffe(2):
Referee - Mr R Hicks
Att - 18029
Half Time 8 - 6

Friday 30 June 2017 HULL FC home won 24 - 22

CASTLEFORD - Hardaker: Hitchcox Webster Shenton Eden: Roberts Gale: Massey McShane Sene-Lefao Millington McMeeken Milner:
Subs used Foster Patrick Springer: Not used - T.Holmes Tries - Gale McMeeken Hardaker:
Goals - Gale(6):
HULL FC - Shaul: Fonua Connor Griffin Talanoa: Kelly Sneyd: Bowden Houghton Watts Minichiello Washbrook Manu:
Subs used - Fash Thompson Taylor Turgut:
Tries - Fonua(2) Talanoa(2):
Goals - Sneyd(3):
Referee - Mr C Kendall
Att - 8/371
Half Time 20 - 4

Thursday 6 July 2017 WAKEFIELD TRINITY away won 25 -24

CASTLEFORD - Hardaker: Minikin Webster Shenton Eden: Roberts Gale: Massey McShane Millington Sene-Lefao McMeeken Milner:
Subs used Lynch Springer Patrick Foster
Tries - Eden Millington McMeeken Webster:
Goals - Gale(4) D/G:
WAKEFIELD T - Grix: Jones - Bishop Arundel Tupou Caton-Brown: Williams Finn: Walker Wood Huby Ashurst Hadley Arona:
Subs used - Annakin Hirst England Figita:
Tries - Jones-Bishop Wood Fifita:
Goals Finn(6):
Referee - Mr C Kendal
Att - 6430
Half Time 0 - 16

Friday 14 July 2017 SALFORD RED DEVILS home won 38 - 14

CASTLEFORD - Hardaker: Hitchcox Minikin Shenton Eden: Roberts Gale: Millington McShane Sene-Lefao Foster McMeeken Massey:
Subs used - Lynch Monaghan Springer Larroyer:
Tries - Eden(2) Monaghan(2) Roberts Hardaker:
Goals - Gale(7):
SALFORD R D - O'Brien: Bibby Welham Jones Evalds: T Carney Dobson: Griffin Tomkins Murray
Murdock-Masila Lannon Hauraki:
Subs used - Lui J Walne Tasi Krasniqi:
Tries - Obrien Welham Bibby: Goal - Dobson:
Referee - Mr P Bentham
Att - 7094
Half Time 18 - 10

Saturday 22 July 2017 CATALAN DRAGONS away won 32 - 24

CASTLEFORD - Hardaker: Monaghan Minikin Shenton Hitchcox: Roberts Gale: Millington McShane Sene-Lefao Foster McMeeken Massey:
Subs used - Lynch Cook Larroyer: Not used - T.Holmes
Tries - Hitchcox(2) Hardaker Minikin McShane:
Goals - Gale(5) Hardaker
CATALAN D - Gigot: Tiernay Inu Duport Yaha: Albert Myler:Moa Aiton Navarette Anderson Horo Bird:
Subs used - Bousquet Garcia Baltieri Margalet:
Tries - Albert Gigot Yaha Duport:
Goals - Gigot(4):
Referee - Mr P Bentham
Att - 8657
Half Time 16- 18

Thursday 3 August 2017 SAINT HELENS home lost 12 - 26

Round 1 Super 8
CASTLEFORD - Hardaker: Monaghan Minikin Shenton Hitchcox: Roberts Gale: Millington McShane Sene-Lefao Foster McMeeken Massey:
Subs used O.Holmes Cook Milner Patrick; Tries - Milner Monaghan:
Goals - Gale(2):
ST HELENS - Lomax: Makinson Morgan Percival Grace:Fages Richardson: McCarthy-Scarsbrook Roby Thompson Taia Peyroux Wilkin:
Subs used - Smith Walmsley Amor Knowles:
Tries - Roby(2) Taia Lomax:
Goals - Percival(5):
Referee - Mr R Hicks
Att - 6849
Half Time 0 - 8

Friday 11 August 2017 SALFORD RED DEVILS away won 23 - 4

Round 2 Super 8
CASTLEFORD - Hardaker: Monaghan Webster Minikin Hitchcox: Roberts Gale: Millington McShane Sene-Lefao O.Holmes McMeeken Massey:
Subs used - Milner Springer;Cook Foster:
Tries - Hardaker(2) McShane Hitchcox:
Goals - Gale(3) D/G:
SALFORD R D - Evalds: Johnson Bibby Jones Vatuvei: Lui T Carne: A Walne Tomkins Kopczak Murdoch-Masila Lannon Hauraki:
Subs used - Griffin Brining Krasniqi Murray:
Try - Vatuvei:
Referee Mr C Kendall
Att - 2811
Half Time 12 -0

Thursday 17 August 2017 WAKEFIELD TRINITY home won 45 - 20

Round 3 Super 8
CASTLEFORD - Hardaker: Minikin Webster Shenton Eden: Roberts Gale: Millington McShane Sene-Lefao O.Holmes McMeeken Massey:
Subs used - Milner Lynch Moors Foster:
Tries - Webster(4) Hardaker(2) McMeeken Eden:
Goals - Gale(6) D/G:
WAKEFIELD T - Jowitt: Jones Bishop Lyne Caton-Brown B Tupou; Miller Finn: Fifita Hadley England Ashurst Kirmond Arona:
Subs used - Williams Huby Annakin Hirst:
Tries - Jones-Bishop Caton-Brown Kirmond Jowitt:
Goals - Finn(2)
Referee - Mr J Child
Att - 11235
Half Time 18 - 10

Friday 1 September 2017 HUDDERSFIELD GIANTS away won 24 - 16

Round 4 Super 8
CASTLEFORD - Hardaker: Hitchcox Webster Shenton Eden: Roberts Gale: Cook McShane Sene-Lefao Moors Foster Massey:
Subs used - Milner Springer Patrick Larroyer:
Tries - Webster Roberts Eden Gale:
Goals - Gale(4):
HUDDERSFIELD G - Rankin: McGillvary Cudjoe Turner McIntosh: Gaskell Brough: Ikahihife Leaming Wakeman Ta'ai Roberts Hinchcliffe:
Subs used - Clough Lawrence Rapira Mellor:
Tries - Roberts Clough McIntosh:
Goals - Rankin(2):
Referee - Mr S Mikalauskas
Att - 6284
Half Time 6 - 12

Friday 8 September 2017 LEEDS RHINOS home won 38 - 24

Round 5 Super 8
CASTLEFORD - Hardaker: Minikin Webster Shenton Eden: Roberts Gale: Sene-Lefao McShane Massey Foster McMeeken Milner:
Subs used - Millington Moors Springer Patrick :
Tries - Roberts(2) Eden Webster Foster Minikin:
Goals - Gale(7):
LEEDS R - Walker: Briscoe Watkins Sutcliffe Hall: McGuire Lilley: Garbutt Purcell Singleton Ward Jones-Buchanan Cuthbertson:
Subs used - Mullally Keinhorst Ablett: Not used - Golding
Tries - Watkins Jones-Buchanan Purcell Garbutt:
Goals - Watkins(4)
Referee - Mr J Smith
Att - 9557
Half Time 30 - 6
Luke Gale 6th goal of 7 took him to 336 points for a season breaking Robert Beardmore record of 334

Sunday 17 September 2017 WIGAN WARRIORS away won 38 - 20

Round 6 Super 8
CASTLEFORD - Hardaker: Minikin Webster Shenton Eden: McShane Trueman: Millington Milner Foster O.Holmes McMeeken Massey:
Subs used - Sene-Lefao Cook Springer T.Holmes:
Tries - Trueman(3) Minikin(2) Eden Shenton:
Goals - McShane(5):
WIGAN W - S Tomkins: Davies Gelling Gildart Burgess: Williams Leuluai: Nuuausala McIlorum Clubb Bateman Farrell J Tomkins:
Subs used - Sutton Isa Powell Tautai:
Tries - Davies S Tomkins Leuluai Isa:
Goals - Williams(2):
Referee - Mr B Thaler
Att - 15706
Half Time 20 - .0

Friday 22 September 2017 HULL F C home lost 16 - 48

Round 7 Super 8
CASTLEFORD - Eden: TUOYO EGODO(979) Joel Monaghan Webster Hitchcox: Tom Holmes Trueman: Cook McShane Springer Foster McMeeken Kevin Larroyer:
Subs used - Andy Lynch Sene-Lefao Roberts Maher:
Tries - Egodo(3):
Goals McShane(2):
HULL F C - Shaul: Fonua Conner Tiimavava Talonoa: Kelly Sneyd: Taylor Houghton Watts Minichiello Manu Ellis:
Subs used - Bowden Fash Green Washbrook:
Tries - Connor(3) Shaul(2) Kelly Houghton Tuimavava:
Goals - Sneyd(8):
Referee - Mr B Thaler
Att - 7974
Half Time 6 - 28

Thursday 28 September 2017 SAINT HELENS home won 23 - 22

Semi Final Super League XXII
CASTLEFORD - Hardaker: Minikin Webster Shenton Eden: Roberts Gale:Massey McShane Sene-Lefao Foster McMeeken Milner:
Subs used - Millington Moors Cook: Not used - Springer:
Tries - Hardaker Gale Milner:
Goals - Gale(5) D/G:
ST HELENS - Barba: Makinson Morgan Percival Grace: Lomax Smith: Douglas Roby Thompson Knowles Taia Wilkin:
Subs used - Walmsley McCarthy-Scarsbrook Peyroux Fages:
Tries - Grace Knowles Makinson Percival Morgan: Goal - Percival:
Referee - Mr J Childs
Att - 11235
Half Time 8 - 10
Scores level at full time won in golden point by a Gale Drop Goal.

Saturday 7 October 2017 LEEDS RHINOS LOST 6 - 24 Final

Super League XXII AT Old Trafford Manchester
CASTLEFORD - Eden: Minikin Webster Shenton Hitchcox: Roberts Gale:Massey McShane Sene-Lefao O.Holmes McMeeken Milner:
Subs used - Millington Moors Cook Foster:
Try - Foster: Goal - Gale:
LEEEDS RHINOS - Walker: Briscoe Watkins Sutcliffe Hall: Moon McGuire: Singleton Parcell Garbett Jones-Buchanan Ward Cuthbertson:
Subs used - Burrow Ablett Ferres Mullally;
Tries Briscoe(2) McGuire(2):
Goals Watkins(3) McGuire 2D/G:
Referee Mr J Child
Att - 72827
Harry Sunderland Trophy Winner McGuire.
On the Thursday before the game Hardaker was dropped from the squad after testing positive by UKAD for taking cocaine. Luke Gale finished the season with 355 points a club record.

Stats kindly provided by the Garbett family.

Researched and written by Paul Hampton, Allan Humphries, Margaret Hudson, Harvey Wiles, Ian Garbett, Roy Garbett